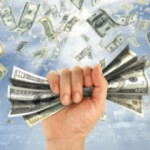 Are you looking for your personal "financial" stimulus package?   You are not alone.  Since the financial crisis of 2008 more and more people are concerned about their current financial status.  You can change your financial picture, and attract money into your life by utilizing the power of candle magic.
Money Power:
Whether you want general financial prosperity, wish to improve your financial picture, or seek a raise I can perform the magic ritual to help open the doors of financial freedom for you.
$49.99
How It Works:
Once I receive payment (which includes all the materials I need), I will contact you via Keen mail to find out what your current needs are.  I will need the names and dates of birth of those involved, as well as a picture (not 100% necessary, but will add more power to the candle magic) of the individual or individuals involved in the ritual.   I will perform the ritual on my altar, at an agreed upon time.
If you wish to light your own candle at that time, I will provide you more information so you can fine tune your meditation and petitions.  This allows your energy and desires to connect with mine.
Why should I use candle magic?
If you knew that you could take something to remove a headache would you do it? Of course, thousands of people a day take aspirin or ibuprofen to relieve headaches created by tension. If you had heartburn or indigestion problems, would you take an antacid? Of course, you would! Thousands of people per day go to pharmacies and drug stores to purchase products to relieve their ailments.
If you could purchase a remedy to resolve the practical problems in your life would you? Of course you would! If we could instantly take something and it would remove all the energies around us that is creating obstacles that prevent us from getting what we want nothing would stop us from doing it. Using candle magic is like creating a personal prescription that removes any blockages, barriers, or obstacles that prevent you from receiving what you desire in your life while rebuilding energies around you that are aimed at achieving your desire. Whether those concerns are about love, romance, money, health, career, or spiritual growth the power of candle magic can and will transform your life.
I can help you!
I (Storm Cestavani) began studying candle magic in 1999, mainly to prove it did not work!   However, candle magic proved me wrong when I learned that it did. Over the next decade, I aggressively studied why candle magic worked and the components that go into creating candle magic. This included the study of colors, herbs, oils, transporters, combinations, how to construct petitions, and much more. After thousands of hours of study, in 2010 I (Storm Cestavani) released my first candle line, "Storm Cestavani's Tarot Magic," with Coventry Creations, and the tarot line quickly became the largest selling Tarot Magic line in the history of candle magic.