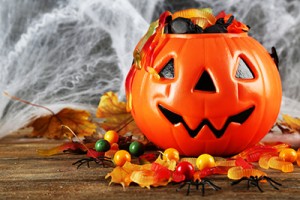 It's the last day of the business week and the Moon continues its trek through social Aquarius which is an amazing energy for the ever so public holiday of Halloween.  This energy is great for connecting with friends and having an amazing time. On the spiritual level, Halloween is associated with the power of death and regeneration (after all it occurs in the sign of Scorpio) and this is a powerful time to let go of the old and begin to embrace the new in your life – this could be old relationships, old family dramas, old dysfunctional behaviors etc.   Frankly put, if it's not working its time to let go of dead works.
Astrologically, today is a lunar day.  During the morning hours, opportunities for unexpected events or encounters could prove to be positive.   You can expect discussions about the future including the potential for promotions or new opportunities that could fall in your lap.  Later this evening, the Moon will oppose Jupiter providing a bit of fun and enjoying for your All Hallows Eve!  Just remember, nothing in excess!
Have a safe and happy Halloween.
Storm Cestavani is the co-host of the top rated metaphysical show "Keep It Magic" and the co-creator of the "Tarot Magic" with Coventry Creations.  Storm is available for consultations by setting up an appointment to speak with him.  Simply click on Book A Reading with Storm at the top of the page.
If you like this post please hit the +1 button at the bottom of your page or the LIKE button.  We thank you!
Like Storm's New Insights In Modern Astrology on Facebook.
Follow Storm on Twitter @StormCestavani2