Cosmic Weather Forecast:  June 12, 2011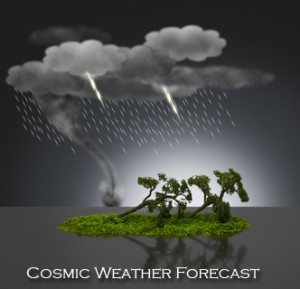 The key astrological weather planet for Sunday is the planet Saturn as it changes directions in the sign of Libra.  Saturn rules structures, boundaries, limitations, and creates rules and regulations in order for us to exist in a sophisticated (the definition of sophisticated can be questioned) modern society.    Since January 26, 2011 Saturn has been in retrograde motion which has cautioned us against making sudden changes in our lives, our businesses, or relationships.   The retrograde cycle instructions us to be more reflective in order to take practical steps towards long term goals and ambitions.   However, we often tend to be very reactive during this cycle because Saturn tends to bring to the surface our fears, insecurities, and our preconceived inadequacies.  We tend to notice what is wrong with our lives, before acknowledging what is right.
The great thing that occurs during Saturn retrograde is that Saturn provides us with the opportunity to revamp the areas of our lives that are not functioning the way we would like, and he brings forth the flaws in our current structure.  For example, if you are in a relationship that feels stymied, then Saturn retrograde will show you why you currently feel stuck and provide you with lessons that allow you to get the relationship moving again.   So, as difficult as Saturn retrograde may be, it provides us with the capability to make substantial and enduring changes that provide us with a more structured life.
Look over the period of the last six months.   What areas of your life have been difficult?   Have any situations, circumstances, or lessons been reoccurring?  If so, you are provided with a proactive opportunity to learn from these experiences and create a more sound and tangible path to follow in the future.    It gets easier from here!
In other astrological news, the Sun will conjoin with Mercury in communicative Gemini, and Venus in Gemini sextile Uranus in Aries.   It is a great day to reach out to friends, learn something new, or just simply be innovative.  It's time to take a risk and jump out of your comfort zone and try something new.
Have a great Sunday!
Storm Cestavani is a psychic, tarotist, and humanistic astrologer with over 20 years' experience.   He is the original "Cosmic Weather" forecaster and is available for both psychic and astrological consultations.  Nothing is too personal, and nothing is too hot for Storm to handle!   To schedule an appointment with Storm simply order the reading you would like, and Storm will contact you to set up your reading.  In order to accommodate work schedules Storm is available for evening and weekend consultations.