Product Description
The Sharman-Caselli Tarot Deck
was first published as part of the
Beginner's Guide To Tarot
and is now released as a deck and booklet, for the first time. It results from a close collaboration between experienced tarot tutor Juliet Sharman-Burke and internationally acclaimed artist Giovanni Caselli. Each card is drawn with a blending of traditional symbolism and modern iconography and is rendered in a clear, distinctive style. Caselli's art is perfect for those using the tarot for the first time.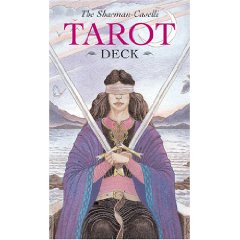 About the Author
Juliet Sharman-Burke is a practicing analytic psychotherapist who has taught tarot and astrology for twenty years. She is the author of The Complete Book of Tarot, Mastering the Tarot and, with Liz Greene, the Mythic Tarot card-and-book set.
Giovanni Caselli is a well known illustrator noted for his work regarding the classical world and its literature, art, symbols, and myths. 
—
This deck is just awe inspiring.  I think it is one of the best beginner books on the market.   I will be using this deck for my upcoming tarot blog, and possible future online classes along with the Mythic Tarot.    If you would like to purchase this deck, and I recommend that EVERYONE does, you can get it by clicking on the link below! 
The Sharman-Caselli Tarot Deck