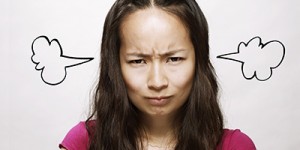 Moon in Aries
October has come to an end and despite two rather intense eclipses and a Mercury retrograde, the energy of the month was rather easy and we had minimal amounts of difficult aspects to deal with.  Well, as I promised in a post last month that would change in November – and November has arrived.
Today, the Moon moves into the sign of Aries which is known for its impatience, intense, abrupt, often angry and impulsive behaviors.  It's not an easy lunar sign and with the Sun being in transformative and intense Scorpio these feelings and emotions can be intensified.  The Moon makes several difficult aspects – Moon square Mars, Moon square Pluto, Moon conjunct Uranus – and this could prove to create discord as we go through the day.
However, there is always an anecdote to every astrological aspect and/or position.  The essence of these planets are obstacles that may present themselves and make it hard for you to get what you want.  This could bring difficulties (new and old) that come to the surface that leave us rather frustrating and managing some rather uncomfortable feelings – especially when we are facing adversity.  These aspects recommend that we let go of all the circumstances in our life that are preventing us from transforming into whom we wish to become and those circumstances with make themselves known today.  It's also important not to react to our emotions and let them get the best of you.  Feel them, embrace them, and understand the roots of your emotions, but don't let them control you.
Be good to yourself today!
Storm Cestavani is the co-host of the top rated metaphysical show "Keep It Magic" and the co-creator of the "Tarot Magic" with Coventry Creations.  Storm is available for consultations by setting up an appointment to speak with him.  Simply click on Book A Reading with Storm at the top of the page.
If you like this post please hit the +1 button at the bottom of your page or the LIKE button.  We thank you!
Like Storm's New Insights In Modern Astrology on Facebook.
Follow Storm on Twitter @StormCestavani2