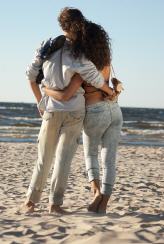 Venus in Capricorn sextiles Saturn in Scorpio at 5:44 AM EST / 2:44 AM PST
Grab your charts.  If you need a copy of yours, you can get one for free at my website.   If you have any planets around 19-23 degrees of Taurus, Cancer, Virgo, Scorpio, Capricorn, or Pisces this forecast's energies will be more significant for you.
Relationships are messy.  They can bring us a level of happiness that we cannot find anywhere else, and they can bring us more misery than many of us care to handle.  Relationships can cause the greatest amount of laughter or they can provoke a flood of the most painful tears.
Over the past 25 years as a reader (both astrologically and psychically), the largest lesson that I have learned from my clients is our difficulty understanding the mysterious other in relationships.  In many ways, we have a fantasy that everyone that we have emotional feelings for has the same desires we have.  This is simply not so!  The problem in our relationships is that we have been programmed (through television, magazines, and our social milieu) to believe that we are all seeking the same things in relationships, and as a result we get so caught up in our "physical desires" that we fail to even ask questions that might help us make adequate decisions about relationships.  On countless occasions, I have had to tell clients that the problems in relationships is that we tend to believe everyone thinks like we do, and as a result we end up emotional devastated, hurt, and upset when our romantic visions do not materialize the way we would like them to.
On January 11, Venus retrograde in Capricorn sextiles Saturn in Scorpio.   This is a very opportunistic aspect to get your relationships headed in the right direction.   Saturn likes realism and Venus retrograde provides us the ability to have inner insight into our true needs out relationships.  This is a great day for you to do some inner work and ask yourself, "What do I REALLY want and need out of a relationship?"  Once you have figured out what you want and need you can then seek out compatible individuals who share the same mindset, if you are single.  If you are currently in a relationship, this is a great time for you to sit down with your partner and explore what both of you want out of the relationship and get on the same page with a plan on how to move the relationship forward.   This is a great day for great things to happen in relationships – don't let it pass you by.
Storm Cestavani is the co-host of the top rated metaphysical show "Keep It Magic" and the co-creator of the "Tarot Magic" with Coventry Creations.  Storm is available for consultations you can to speak with him by arranging a call.  Simply click on Get a Reading at the top of the page.  If you have never received a reading from Storm or one of our other psychics or astrologers on Keen.com we invite you to receive a free 3-minute reading.  You can redeem that offer by click here.  FREE 3 MINUTE PSYCHIC READING
If you like this post please hit the +1 button at the bottom of your page or the LIKE button.  We thank you!
Like Storm's New Insights in Modern Astrology on Facebook.
Follow Storm on Twitter @psychastro