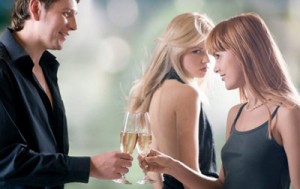 Venus in Scorpio
Today we have a few sign changes – The Sun and Venus both move out of civilized Libra and dive head first into the murky instinctual waters of Scorpio.  Since I will dedicate a post to the Sun in Scorpio elsewhere (solar eclipse blog), I will use this space for Venus.
Venus naturally rules the sensual physical realm of Taurus and the rational civilized world of Libra, and when she is in Scorpio she is considered in detriment.  This means that the energies of the sign do not cooperate or work well with the natural energies of the love goddess.  Scorpio, like all the water signs, requires depth of feeling and emotional closeness which limits Venus' ability to do whatever she wishes to do when she wants to do it.  In essence, she is bound to what she loves and in the sign of Scorpio, Venus needs more out of relationships than what our cultural idealisms dictate.  As such, Venus in the sign of the scorpion can express some of her darkest characteristics – jealousy, possessiveness, and a need to control those around her.
While Venus is in Scorpio, we can look within to discover areas of our life where we may be jealous, envious, possessive, and how we may harbor hostility and bitterness towards others.  These are powerful emotional experiences which may limit our relationships with others and getting to the root of our feelings will often provide us with the ability to love in its more deepest capacity – unconditionally.  By dealing with emotional hurts, Venus in Scorpio regenerates our souls and provides us with the ability to be ourselves and allow others their own individuality as well.
Dig deep today!  The treasures you will find will surprise you.
Storm Cestavani is the co-host of the top rated metaphysical show "Keep It Magic" and the co-creator of the "Tarot Magic" with Coventry Creations.  Storm is available for consultations by setting up an appointment to speak with him.  Simply click on Book A Reading with Storm at the top of the page.
If you like this post please hit the +1 button at the bottom of your page or the LIKE button.  We thank you!
Like Storm's New Insights In Modern Astrology on Facebook.
Follow Storm on Twitter @StormCestavani2