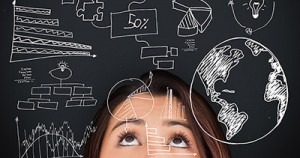 Today, Mercury retrograde in Libra creates a harmonious aspect (sextile) to expansive and benefic Jupiter in Leo.  The good news about this aspect is that it is naturally self-reflective, so there is not much of a need to tweak Mercury.
Mercury in aspect to Jupiter gives us the ability to see potentials and possibilities in life. We move beyond our day to day focus and begin to see the big picture.  Understanding what you truly want and need out of life and creating a plan to get there is a major key towards self-actualization and builds the proverbial bridge to inner happiness.  Further, your mood should be rather optimistic and you will find others enjoy being around you at this time.
Business wise today is an amazing day.  The positive aspect between Mercury and Jupiter are favorable for negotiations, transactions, and since Jupiter naturally rules the 9th house of legal affairs this is a great time to resolve any past legal matters and ultimately put a positive end to them.  However, with Mercury being retrograde contract negotiations should be avoided until after October 25th.
Have an amazingly inspired day!
Storm Cestavani is the co-host of the top rated metaphysical show "Keep It Magic" and the co-creator of the "Tarot Magic" with Coventry Creations.  Storm is available for consultations by setting up an appointment to speak with him.  Simply click on Book A Reading with Storm at the top of the page.
If you like this post please hit the +1 button at the bottom of your page or the LIKE button.  We thank you!
Like Storm's New Insights In Modern Astrology on Facebook.
Follow Storm on Twitter @StormCestavani2